Find out more about us...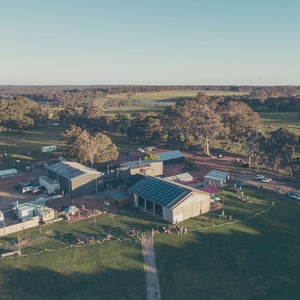 The Farm
Our brewery Beerfarm was born in 2015, when five misfits stumbled upon a little slice of heaven in Metricup, Western Australia. Once an old dairy farm, they converted the hay shed into a tavern, built a brewery in the round house and created a name for both a destination and a brewery that would serve straight up beer.
With the South West being so dense with farmlands and the brewery being smack bang in the middle of some of the region's best agriculture, 'The Beer Farm' was born because, well. It was exactly that! There were no doors, no roof and there was more dirt than grass. It was all hands on deck for George Scott, Ian Atkins, Craig Thommo, Ben Joseph and Josh Thomas who took turns in bartending, managing the venue, cooking the food and delivering it to the tables, all in a day's work.
Visit the farm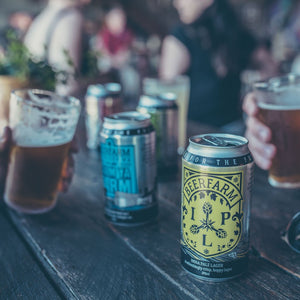 Beer For All
We make beers for all occasions, from smashable lagers your mum and dad would drink to complex IPA's and sours packed full of rescued fruit supporting Aussie farmers. If beer is not your jam, we also make a cider packed with fresh Manjimup apples. Find us on tap and in bottle shops around WA, NSW, Victoria and at our own venue in Metricup. We are an ambitious bunch and we are on a mission to bring Beerfarm to as many lips as possible, whilst having a bloody good time along the way! 
Shop our beers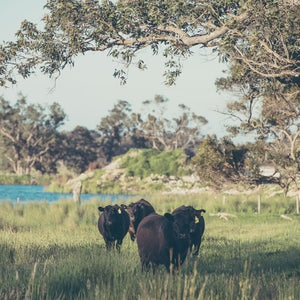 Established For The Future
​​At Beerfarm, we're committed to reducing our footprint every step of the way. We run an ever-growing array of solar panels across our brewery's rooftops to minimise our energy use and have a thorough wastewater plan in place to reduce our water consumption during the beer making-process, while managing our waste water post-brew.
Our herd of Black Angus cattle roam the surrounding paddocks and are fed a diet of grass and spent grain from the brewing process, in a circular economy to keep our product as local as possible.
While recycling, up-cycling and composting are our bread and butter, each day we strive to improve our efforts in sustainable practises wherever we can. But our commitment to the future focuses on more than just energy and waste management, it's also about our people and our community.
This is why we created our Save the Harvest initiative in 2018, to support Aussie farmers and help reduce agricultural food waste. Or our Native Series of beers in collaboration with Fervor, which looks to educate Australians about the native ingredients in their backyards, as well as the flavour and stories that go with them, while supporting indigenous farming enterprises at the same time.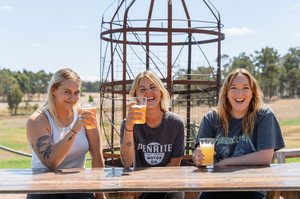 Our Values
Our values were created by our people and our team, who have helped the farm evolve and grow over time. We are likeminds from different corners of the world, coming together to create good times that go hand-in-hand with good deeds. We are a real company with real people, built on real values.
Considered
Our eye is always on an ethical and sustainable future. We do the right thing; actions speak louder than words.
Belonging
Everyone is respected, included and has a sense of ownership, Teamwork and hard graft is in our genetics!
Pioneering
Innovation and creativity is in our DNA. We are driven by the journey and take pride in the execution, we don't settle for ok.
Genuine
We are passionate and humble people. Honesty and integrity is at the heart of everything we do.
Our Initiatives
We work hard day in and day out to reduce our carbon footprint and minimise our impact on the land, and the environment. We're not perfect, but we strive to be sustainable and accountable in everything that we do.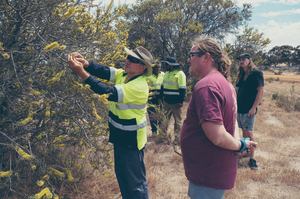 Native Series
Each year, we work alongside Fervor to educate Australians about the sustainable use of native Australian ingredients as well as the flavours and stories that go with them. With each beer release, we've worked to highlight the cultural significance of native species to Australia's First Nations Peoples, partnering with First Nations organisations and enterprises such as Roelands Village and Badgebup Aboriginal Corporation, while supporting Indigenous communities along the way.
Learn More
Save The Harvest
In 2018, we began our ongoing crusade to save excess fruit from perishing while supporting Aussie farmers, sourcing produce from companies who had been impacted by contamination, packaging schedule changes and lack of foreign export. When the Strawberry Needle Crisis hit, we rescued 1.5 tonnes of strawberries and turned it into our Strawberry Sour.

We've also been working to save imperfect looking produce that doesn't fit supermarket standards, using coloured (over ripe) pineapple from far north Queensland for our Pineapple Sour and turning agricultural food waste into beer wherever we can.
Learn more